A Fond Farewell to our friend Gil McNabb
Gil McNabb, Market Pioneer, passed peacefully early this summer.
Gil was a long-time vendor, volunteer and board member. He was a real character and a genuine person. Gil will be missed by our vendors and customers. He truly loved the market and supporting others. Let's honor him by remembering what a special place he had in our community at Redmond Saturday Market. Good luck on the journey Gil! You will not easily be forgotten!
Experience Redmond Saturday Market!
The Eastside's Oldest Farmers Market.
The Cadillac of farmers markets celebrates its 41st season with over 70 vendors weekly! We have organic choices in produce, fruits, berries, cheese, eggs and meats. Find great selections of plants, herbs, flowers, breads, jams, honey, fish, specialty sauces and nuts. Enjoy crepes, sliders, tamales, pizza, sausage heros, pulled pork, shave ice, popcorn and pastries for lunch. Listen to our live bands every Saturday. Find one-of-a-kind gifts made by our local artisans. Zucchini Races, Hula Dancers, Pirates, free Make n' Take crafts for Kids, Celebrating Veterans, Kids Day, and Pet Parades are just some of the fun in store for this season! Every Saturday, May thru October, 9:00 am to 3:00 pm.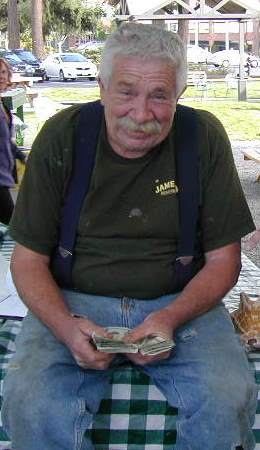 Gil McNabb
Our Location...
7730 Leary Way
Redmond, Wa 98052
Click here for Map and Directions